Indoor Air Comfort - pan-European product certification

Eurofins "Indoor Air Comfort" (IAC) product certification is an innovative tool for showing compliance with low VOC emissions criteria of the most relevant European specifications on two levels:
Standard level "Indoor Air Comfort - certified product" shows compliance of product emissions with the criteria of all legal specifications issued by authorities in the European Union.
Higher level "Indoor Air Comfort GOLD - certified product" shows compliance of product emissions with the criteria of many of the voluntary specifications issued by most relevant ecolabels and similar specifications in the EU - making certified products those with the best-in-class contribution to indoor air quality.
More details are in the IAC specification.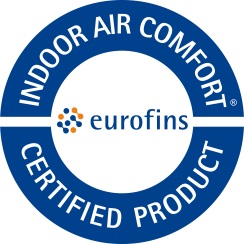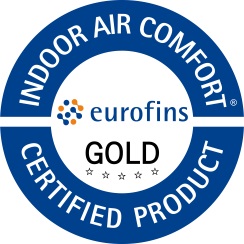 Criteria covered:
The specifications on VOC emissions of these programs are included in the certification:
Indoor Air Comfort:

Belgian regulation
French regulation, A class (or A+ class for ndoor Air Comfort GOLD)
German regulation, AgBB
Upcoming Lithuanian regulation
Planned Swedish regulation
E1 classification

Indoor Air Comfort GOLD, on top of the above:

EMICODE
GUT (except odour testing)
Several EU ecolabel criteria
Several Blue Angel criteria
Several Austrian ecolabel criteria
LEED outside North America
FEMB standard for sustainable office furniture
BREEAM only partly
M1 only partly

Not included:

US programs such as CDPH, BIFMA, Cradle-to-cradle, Greenguard
Danish Indoor Air Climate label
Any odour and ammonia tests
But the tests necessary for the above can be supplemented to an Indoor Air Comfort test, saving significant costs when compared with separate testing
The Eurofins "Indoor Air Comfort" certificate and label may give market advantages - especially in countries and for products where no public low emission label exists.
A certified product can also apply for whatever covered label on the basis of the test report, as regards VOC emissions into indoor air. But the individual programs may have supplemental requirements, and they may require license fees.
Contact to Indoor Air Comfort certification
Eurofins Consumer Product Testing GmbH
Am Neuländer Gewerbepark 4
21079 Hamburg, Germany
Phone: +49 40 492 94 6815
.
Eurofins Product Testing A/S
Smedeskovvej 38, 8464 Galten, Denmark
Phone: +45 7022 4276
Email 
voc@eurofins.com