Eurofins India Interactive Map

Please scroll and  zoom to expand groups of laboratories  
Eurofins has a large range of laboratories and IT development services based in Bangalore.
Email info@eurofins.in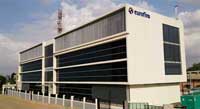 Eurofins Analytical Services India Pvt Ltd  provides a comprehensive and one-stop testing service to businesses and organizations involved in food and feed processing, Agro products,  Export, Hospitality and Retail chains.
Our comprehensive range of services includes
Food and Feed Testing
Contaminants Testing
GMO testing
Microbial Analysis
Mineral detection
Nutritional Labeling
Pesticide residue
Amino acids
Mycotoxins
Oil seed fatty acid profile
Proximate analysis
Meat Testing
Fish Testing
Allergen testing
Determination of food authenticity and origin (traceability)
Irradiated food testing
Inspection Services
Sampling and analysis
Cleanliness inspection
Pre shipment Inspection
For more details  and enquiry visit - http://www.eurofins.in/food-and-agriculture.aspx
 
Eurofins Genomics India is one of the leading genomics products and services provider in India.
We enjoy a great reputation all over India for our quality products and service amount students, research scholars and scientists both in academy and Industry
Products and Services
Oligonucleotides

Short sequence of oligos (min 5 mers)
Long sequence of oligos (upto 140 mers)
Oligos with wobbles
Oligos with modifications at 5 or 3 prime end (130 different mods available)
HPLC purified oligos
Page purified Oligos
RAPD oligos

Dual labelled probes
siRNA
DNA Sequencing
Gene Synthesis
Next Generation Sequencing

De novo and Comparative Sequencing 
NimbleGen Sequence Capture 
Transcriptome Analysis Services 
Re-Sequencing of Exons 
Ultra Deep Sequencing of Exons 
Library Generation Services 
Bioinformatics Services
For more details  and enquiry visit - http://www.eurofinsgenomics.co.in
Laboratories

Agroscience Services


BioPharma Services


Clinical Diagnostics


Consumer Product Testing


Corporate


Food Testing


Genomic Services