Biosimilar Potency Assays

As patents on popular biological medical products begin to expire, there is an emerging need for reliable testing capabilities to support biosimilar development.
Regulatory guidance recommends that extensive and robust comparability studies be performed on both physicochemical and functional attributes between the biosimilar product and its respective reference/innovator product.
Eurofins BioPharma Product Testing is proactively expanding our offering of validated cell based potency assays that are ready to use to test biosimilar drug substance and drug product samples, as well as to assist process development and validation.
In addition to the cell based potency assays being developed in the US, we also have method development and testing capabilities at our laboratory in Munich, Germany for Surface Plasmon Resonance (SPR) assays—alternative methods to study the binding activity/affinity of the biosimilar products to their intended target (and/or Fc receptors), which are frequently adopted as additional functional characterization assays.
We also collaborate with our colleagues in the US and Europe to transfer and co-validate methods to provide a global offering.
Why Choose Eurofins BioPharma Product Testing?
We have experience testing biosimilars for the top innovator targets.
We currently have validated cell based potency assays available to support the top three biosimilar products and have an aggressive schedule to bring additional assays on this year (see table on reverse).
By offering these assays at Eurofins locations in the US and Europe, we provide convenience in logistics for our clients who plan on launching products in both regions.
Comprehensive Services to Support Biosimilars
Our comprehensive offering of testing services enables us to support all aspects of your biosimilar development project, including:
Full GMP Stability and Release Testing
Biochemistry Characterization, meeting ICH guidelines (particularly ICH Q6B)
cGMP Mammalian Cell Bank Manufacturing and Cell Line Characterization
Viral Safety and Viral Clearance
Lot Release for adventitious agents
Microbiology
Molecular and Cell Biology
Available Assays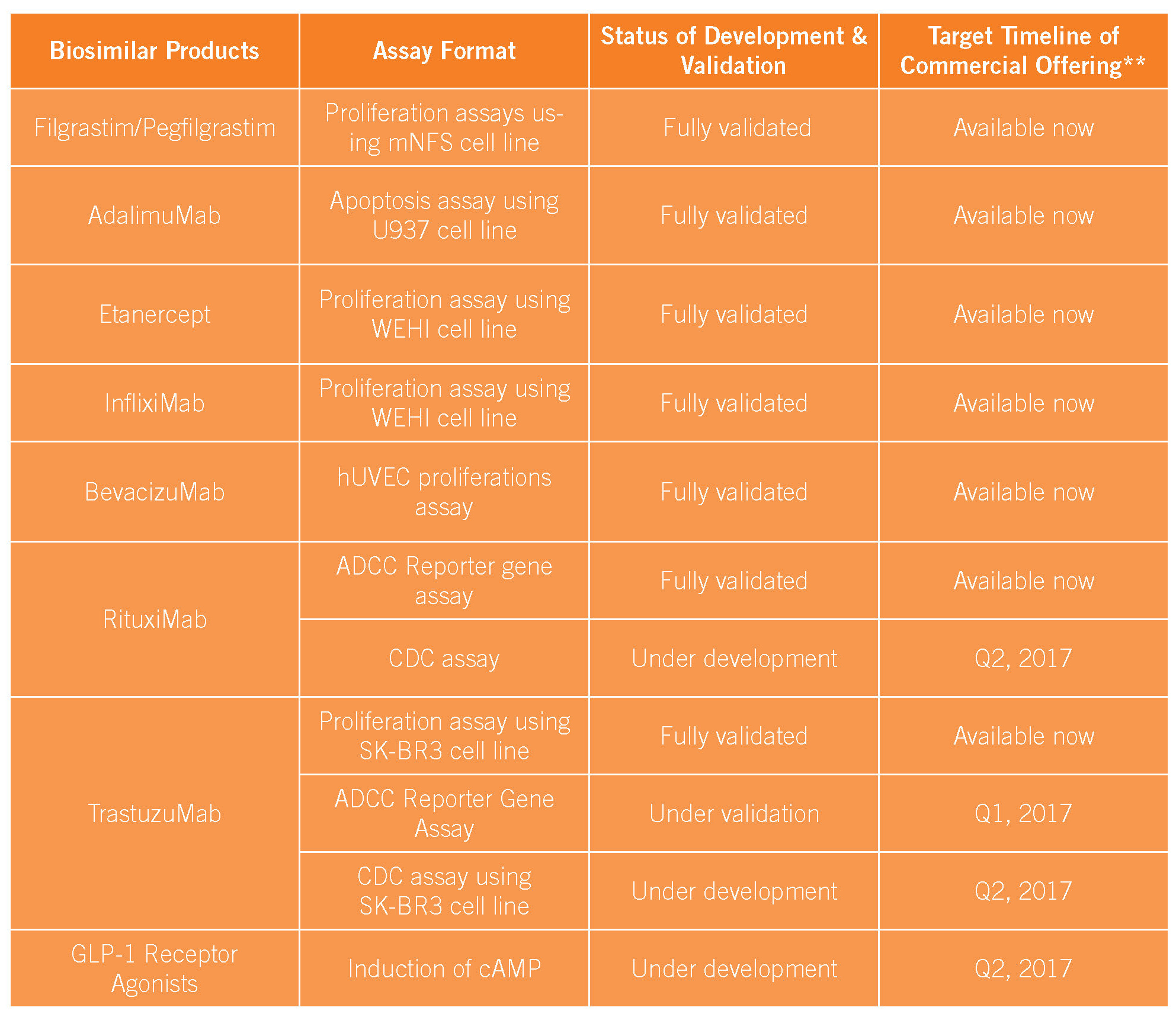 **We are sensitive to the unique needs of each of our biosimilar clients and will work with clients to prioritize development of a given method to support specific requests.