Medical Device Testing
Eurofins Medical Device Testing is a member of the Eurofins BioPharma Product Testing Group - The largest network of medical device testing and harmonized bio/pharmaceutical GMP product testing labs worldwide.

With extensive knowledge of the commercial process, regulatory requirements and scientific trends in the medical device industry, Eurofins Medical Device Testing provides the optimal strategy for medical device companies of all sizes.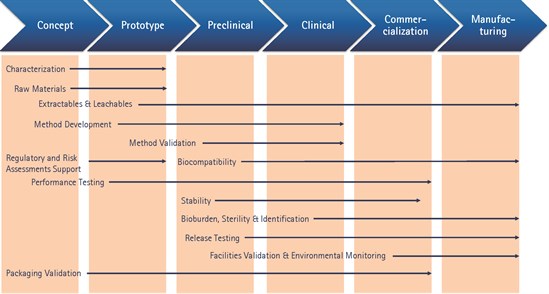 Our Services for Medical Device Testing include:
Our Core Philosophy
Development of an individual and optimal strategy for each medical device based on the risk and toxicological assessment approach.
Apart from standard testing, establishment of tailor-made study designs for special customer requests.
Helping the medical device customers with their individual projects by solving problems of unexpected test results.
Active participation in relevant working groups of e.g. ISO 10993 guarantee best scientific practice and support in
medical device testing.
Prime quality in performance of studies and documentation managed by three quality systems for world-wide acceptance of study results.
Our Quality Standards
Our Quality Standards for Medical Device Testing are high. Eurofins Medical Device Testing laboratories have been accredited with EN ISO 17025 for biocompatibility testing of medical devices and are certified in accordance with EN ISO 13485, Good Laboratory Practices (GLP) and Good Manufacturing Practices (GMP).

Eurofins is listed by the World Health Organization (WHO), has been audited successfully by the Federal Drug Administration (FDA), and is accredited by the Association for the Assessment and Accreditation of Laboratory Animal Care (AAALAC) International for our partner lab in Munich, Germany.
For further information please contact us:  medical-device@eurofins.com