Anti-cancer drug profiling and biomarker identification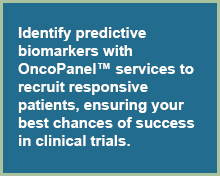 OncoPanel™ services provide multi-parametric drug response data across a panel of 300 genomically diverse cancer cell lines that span 19 different cancer tissues.  Therapeutics may be tested in the entire panel or a subset that contains any combination of the 300 available cancer cell lines.  Using high content imaging, simultaneous detection of anti-cancer activity and detection of pharmacodynamic biomarkers in a single, multiplexed assay may be provided.
OncoPanel™ services allow a detailed understanding of drug response that cannot be achieved by single endpoint assay profiling.  Assay endpoints can be customized to measure up to four biological pathways or processes at once (cell viability, apoptosis, mitotic block and custom markers).  Genomic analysis of OncoPanel™ data enables the discovery of predictive biomarkers to help determine which genomic features may predispose patients to therapeutic response.
Cell surface expression of your target antigen can be measured in live cells to correlate antigen expression with therapeutic response in the same assay.  OncoPanel™ can also provide quantitative binding analysis of therapeutic antibodies within the same multiplexed assay.
| | |
| --- | --- |
| CELL TYPE | # of Cell Lines |
| Bladder | 11 |
| Breast | 18 |
| Central Nervous System | 24 |
| Colon | 30 |
| Endocrine | 7 |
| Eye | 1 |
| Female GU | 20 |
| Haematopoietic | 57 |
| Head and Neck | 12 |
| Kidney | 10 |
| Liver | 7 |
| Lung | 23 |
| Pancreas | 13 |
| Placenta | 3 |
| Prostate | 6 |
| Skin | 25 |
| Soft Tissue | 25 |
| Stomach | 7 |
| Testis | 1 |
Study design to match your project goals
As assays become more sophisticated, it is often necessary to tailor parameters to the specific question that is being asked. Our experience working with a variety of different molecules, such as kinase inhibitors, epigenetic modulators and large molecule biologics, ensures that we can generate the best study design for your project.    
The OncoPanel™ Advantage:

Univariate genomic analysis to identify predictive biomarkers to correlate sensitivity and resistance

Genomic data repository: Eurofins, Sanger COSMIC, Broad CCLE
Univariate genomic analysis includes

Mutations
DNA copy number alterations (amplifications, homozygous deletions)
Differential mRNA expression

>300 genomically characterized cancer lines provides statistical power to uncover and rate predictive biomarkers

Rigorous cell culture quality control, provides consistent responses and reproducibility

Experienced in testing small molecules, biologics & drug combinations
State-of-the-art High Content Analysis (HCA) instrumentation and automation to deliver objective and more consistent data analysis
Multi-parametric analysis for rich mechanistic data

Cell viability - decreased cell count using DAPI (nuclear dye) stained cells
Apoptosis - increased staining with an anti-active caspase antibody
Mitotic block - increased staining with an anti-phospho-histone-H3 antibody
Custom markers - project specific endpoints (e.g., PD biomarker)  

Flexibility - test compounds in our pre-existing cell line panel or send your own cell lines
Pioneers for image based oncology services, establishing studies in 2007
 
Figure 1. OncoPanel™ service work flow
 
Figure 2.

OncoPanel™ services powered by quality and interpretation drives
Lab automation and non-contact liquid dispensing (left), along with strict cell culture procedure, drives the consistency behind OncoPanel™ service. The true power of OncoPanel™ lies in the ability to decipher predictive biomarkers (right) to support clinical trials later in development.